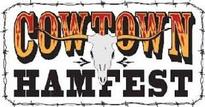 The Cowtown Hamfest and ARRL North Texas Section Convention, the original Hamfest in the Fort Worth Metroplex is scheduled in January 20-21 2017.
The event date, January 20-21, 2017 at The Forest Hill Civic and Convention Center, 6901 Wichita Street Forest Hill, Texas 76140.
Doors open Friday afternoon the 20th at 3:00 pm and will remain open until 7:00 pm. Saturday morning the 21th it opens at 7:00 am and will close at 3:00 pm.
Food will be available Friday and Saturday. Morning coffee, breakfast snacks and lunch will be available. Door prizes will be awarded through-out the event, with the grand prize awarded at the end.  Online discount tickets will be available. There will be a pre event drawing among those buying pre event tickets. The event will feature large vendor areas over 120 tables and outdoor tailgate flea market. Several well known commercial vendors will be present. Representatives from Kenwood and Yaesu have been invited to attend. Vendors should go to the website for information.  We recommend ordering your tables in advance. They will sell out. Since we are still new to this venue, spaces will be assigned. Tailgaters can purchase spaces on the day of the event.
A complete set of educational programs are offered through-out the day Saturday and VE Testing will be done both Friday and Saturday.
Talk-in is 146.94 tone, 110.9. WiresX will be up the repeater at 442.20 tone, 110.9. Volunteers are needed. This is a call for programs and speakers. Volunteers for work or as a speaker should contact David Forbes at KC5UYR@compuserve.com .  The Hamfest is open to everyone. It will have something for all. Those who are ham radio operators, present and past are encouraged to attend. In past years, the response has been overwhelming.  There is no better time to find friends new and old. The best part of a Hamfest is visiting with your friends and finding out what has been happening to them in their lives.  Check the website for the current information about all things Cowtown Hamfest.  The website is located at www.cowtownhamfest.com