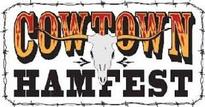 The Cowtown Hamfest and ARRL North Texas Section Convention, the original HAMFEST in the Fort Worth Metroplex is scheduled January 18-19 2019.
The event date, January 18-19, 2017 at The Forest Hill Civic and Convention Center, 6901 Wichita Street Forest Hill, Texas 76140.
Doors open Friday afternoon the 18th at 3:00 pm and will remain open until 7:00 pm. They reopen Saturday morning the 19th it opens at 7:00 am and will close at 3:00 pm.
More details on the COWTOWN HAMFEST Web Page.