SKYNET!!!! 9PM CT – 10:30PM CT
Saturday's Topic: "NASA's "Launch America" Website" & "Vega and Epsilon Lyrae"
Net Control: Billye KF5PDS
Afterglow Movie 10:30PM: They Might Be Giants (1971)
2-Meter Repeater W5FC: 146.880MHz, PL 110.9, –
Echolink: W5FC-R, node 37247.
Youtube.com Search "DARC Skynet"
Facebook.com Search "DARC Skynet"
Twitch.tv Search "KE5ICX"
Direct Video Link: https://www.youtube.com/channel/UCishlh8WmW7OXy9Q6sxsaag
IO Group: https://groups.io/g/DARCskynet/topics
Facebook Group: http://www.facebook.com/groups/306498286059167/
Saturday's DARC SkyNet is at 9PM CT.
Discussion Topic of the Evening.
NASA's "Launch America" Website.
This week will mark America's return to launching manned spacecraft into earth orbit. "Launch America" gives all the latest details.
https://www.nasa.gov/specials/dm2/
Space Exploration and Space History
Space Exploration News
SpaceX Dragon Atop Falcon 9 Rocket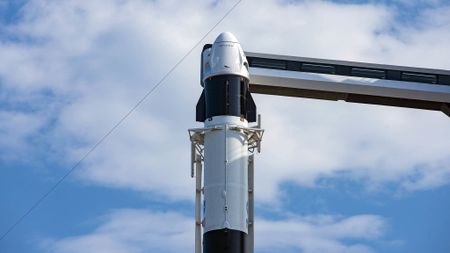 Space-Related Birthdays
May 19, 1939, Dick Scobee 2 STS missions, died in Challenger

May 17, 1967, Joseph Acaba 7 flights

May 18, 1930 Don L. Lind STS-51B

May 20, 1944 David M Walker 4 STS missions

May 21, 1942 Robert C. Springer 2 STS missions

May 20, 1951 Thomas Akers 4 STS missions

May 20, 1964 Paul W. Richards STS-102

This Week in Space History
April 18, 1969 Apollo 10 launched

May 24, 1962 Launch of Aurora 7


Waz Up/Miss Carolyn's Constellation of the Week
Astronomical Object of the Week
Vega and Epsilon Lyrae
Vega (Alpha Lyrae)
Vega and Epsilon in Lyra

Vega Comparison with Other Stars

Epsilon (Double Star)

Lyra with Epsilon Lyrae Featured


Space Launches For This Week
Space Coast Launches
Space Flight Now Launch Schedule
MayLauncherOne • Launch Demo
Launch window: TBD
Launch site: Cosmic Girl (Boeing 747), Mojave Air and Space Port, California
A Virgin Orbit LauncherOne rocket will make its first orbital test flight after dropping from a modified Boeing 747 carrier aircraft over the Pacific Ocean off the coast of California. Delayed from early 2019 and summer 2019. [May 4]
May
Electron • "Don't Stop Me Now"
Launch window: TBD
Launch site: Launch Complex 1, Mahia Peninsula, New Zealand
A Rocket Lab Electron rocket will launch on its 12th flight on a rideshare mission. The rocket will carry three payloads into orbit for the National Reconnaissance Office, the U.S. government's spy satellite agency, and the ANDESITE CubeSat for Boston University and NASA's CubeSat Launch Initiative, which will study Earth's magnetosphere and Space Weather. The M2 Pathfinder satellite, a collaboration between the Australian government and the University of New South Wales Canberra Space, will also be launched on a communications and technology demonstration mission. Rocket Lab has nicknamed the launch "Don't Stop Me Now." Delayed from March 29 due to coronavirus pandemic. [May 4]
May 27
Falcon 9 • Crew Dragon Demo 2
Launch time: 2033 GMT (4:33 p.m. EDT)
Launch site: LC-39A, Kennedy Space Center, Florida
A SpaceX Falcon 9 rocket will launch a Crew Dragon spacecraft on its first test flight with astronauts on-board to the International Space Station under the auspices of NASA's commercial crew program. NASA astronauts Doug Hurley and Bob Behnken will fly on the Demo-2 mission. The Crew Dragon will return to a splashdown at sea. Delayed from June, July 25, Sept. 21, February, April and May 7. [May 9]
TBD
GSLV Mk.2 • GISAT 1
Launch time: TBD
Launch site: Satish Dhawan Space Center, Sriharikota, India
India's Geosynchronous Satellite Launch Vehicle Mk. 2 (GSLV Mk.2), designated GSLV-F10, will launch India's first GEO Imaging Satellite, or GISAT 1. The GISAT 1 spacecraft will provide continuous remote sensing observations over the Indian subcontinent from geostationary orbit more than 22,000 miles (nearly 36,000 kilometers) above Earth. Delayed from Jan. 15, February and March 5. [March 13]
TBD
Falcon 9 • SAOCOM 1B
Launch time: 2321 GMT (7:21 p.m. EDT)
Launch site: Cape Canaveral, Florida
A SpaceX Falcon 9 rocket will launch the SAOCOM 1B satellite for CONAE, Argentina's space agency. SAOCOM 1B is the second of two SAOCOM 1-series Earth observation satellites designed to provide radar imagery to help emergency responders and monitor the environment, including the collection of soil moisture measurements. Delayed from 4th Quarter of 2019, January and February. This mission was originally scheduled to launch from Vandenberg Air Force Base, California. Delayed from March 30 due to coronavirus pandemic. [March 25]
TBD
SSLV • Demonstration Launch
Launch time: TBD
Launch site: Satish Dhawan Space Center, Sriharikota, India
India's Small Satellite Launch Vehicle (SSLV) will launch on its first orbital test flight. Consisting of three solid-fueled stages and a liquid-fueled upper stage, the SSLV is a new Indian launch vehicle designed to carry small satellites into low Earth orbit. Delayed from September, December and January. [Jan. 25]
TBD
PSLV • RISAT 2BR2
Launch time: TBD
Launch site: Satish Dhawan Space Center, Sriharikota, India
India's Polar Satellite Launch Vehicle (PSLV), designated PSLV-C49, will launch the RISAT 2BR2 radar Earth observation satellite for the Indian Space Research Organization. The PSLV will also launch four Kleos Scouting Mission radio surveillance nanosatellites for Kleos Space, a Luxembourg-based company, and multiple Lemur 2 CubeSats for Spire Global. The mission will likely use the "Core Alone" version of the PSLV with no strap-on solid rocket boosters. Delayed from December. [Feb. 11]
June
Falcon 9 • Starlink 7
Launch time: TBD
Launch site: SLC-40, Cape Canaveral Air Force Station, Florida
A SpaceX Falcon 9 rocket is expected to launch the eighth batch of approximately 60 satellites for SpaceX's Starlink broadband network, a mission designated Starlink 7. Delayed from May 7. Updated to clarify the possibility of launching May 17, assuming range availability. Delayed from May 17 due to Atlas 5 scrub. Delayed from May 18 due to tropical depression in landing zone. Delayed from May 19 due to Tropical Storm Arthur in booster landing zone. [May 18]
Recent Astronomical Discoveries
Alma Spots Twinkling Heart of the Milky Way
https://www.sciencedaily.com/releases/2020/05/200522102313.htm
Visible satellite passages over the next couple of days.
All times are "local" (Dallas) time.
X-37B
https://www.heavens-above.com/PassSummary.aspx?satid=80000&lat=33.0462&lng=-96.9942&loc=LewisvilleTX&alt=110&tz=UCT
May 27
https://www.heavens-above.com/passdetails.aspx?lat=33.0462&lng=-96.9942&loc=LewisvilleTX&alt=110&tz=UCT&satid=80000&mjd=58996.4223159835&type=V
May 29
https://www.heavens-above.com/passdetails.aspx?lat=33.0462&lng=-96.9942&loc=LewisvilleTX&alt=110&tz=UCT&satid=80000&mjd=58998.4090418934&type=V